Outwit The Credit Crunch With Free TalkTalk Broadband
With the credit crunch making many of us worry about our money, it makes sense to consider switching your broadband to one of TalkTalk's free broadband packages.
In particular, TalkTalk's half price Talk Global Call Plan costs from just £3.25 a month and includes unlimited evening and weekend phone calls to local and national UK landlines, calls to 36 international destinations worldwide AND free broadband.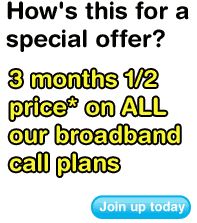 This half price offer ends on the 30th June 2008 so if you want to stay ahead of the credit crunch, you'd better act quickly!
Simply phone TalkTalk on 0800 049 7865 or read our Talk Talk Broadband review for more information.