AOL Broadband And Phone Bundles For Summer 2008
AOL have four new AOL Broadband and phone bundles now available for summer 2008.
With one of the bundles you can get up to 8Mb wireless AOL Broadband plus evening and weekend landline phone calls for just £4.99 per month for the first 3 months, followed by £9.99 a month thereafter. You'll also receive a free wireless router worth £50.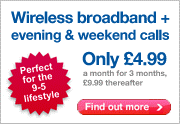 You can choose an AOL broadband and phone bundle with a Talk Evening & Weekends phone call plan or a Talk Unlimited plan either on an 18 month contract or with no minimum term contract – The choice is yours.
Please read our AOL Broadband And Phone review for more information on these new bundles and also the full range of AOL Broadband packages.