Best Broadband Deals 2022
Upgrade To The Sky Box Sets Bundle – 12 Months HALF PRICE Offer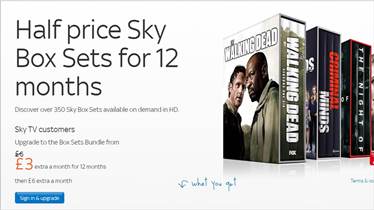 Sky TV customers upgrading to the Sky Box Sets bundle at the sky.com/boxsets website can now watch on-demand over 350 must-see TV box sets of the latest and greatest TV shows, plus over 50 HD entertainment channels – AND eye-popping documentaries in 3D.
With the 12 months HALF PRICE offer, customers can upgrade from just £3 extra a month and in doing so, unlock a world of entertainment where they can watch at anytime complete series of some of Sky's latest shows, like The Walking Dead, The Night Of, and Nashville. Hurry though, as the 12 months HALF PRICE upgrade offer ends on the 29th of September.
Whether customers have missed out on them the first time or want to watch them all over again, Sky's must-see TV box sets are easy to find and ready to watch at anytime by upgrading to the Sky Box Sets Bundle – and then simply connecting their compatible Sky+HD box to any broadband router.
The 50 HD entertainment channels on offer include the likes of Sky Atlantic HD, FOX, Nat Geo Wild HD, Disney HD and much more – all of which look razor sharp with five times more picture details and incredibly vibrant colours.
Sky's Catch-Up TV service, the largest of its kind in the UK is also available to enjoy as is the Sky 3D channel with award-winning documentaries and live events.
Sky TV customers can find out further information and upgrade online at the sky.com/boxsets website. Upgrade orders are typically processed by Sky in just a few hours time.