TalkTalk TV Is Britain's Fastest Growing New TV Service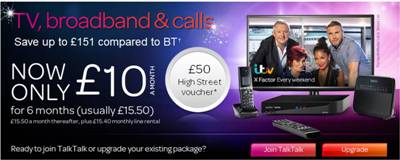 TalkTalk TV (talktalk.co.uk/tv) has become Britain's fastest growing new TV service with over 70% of its new customers switching from either Freeview or Freesat.
The migration of people using Freeview or Freesat to TalkTalk TV is set to continue at a rapid pace thanks to TalkTalk TV's value for money proposition (now just £10 a month for the first 6 months) and superior features – some of which we've taken a closer look at here.
Set Top Box Costs
Both Freeview and Freesat customers will need to buy their own set top box which can cost up to £249.95. They also have to pay a separate monthly subscription for their home broadband service.
Customers opting for TalkTalk TV receive a free YouView box worth £299 as part of their £10 a month TalkTalk Plus TV subscription – which also includes unlimited broadband and anytime phone calls to UK landlines.
The £10 a month subscription applies to both new customers and existing TalkTalk Essential customers, while there's no extra charge for existing TalkTalk Plus customers.
Backwards EPG and Recording
The Freeview+ HD boxes do not currently have a backwards Electronic Programming Guide (EPG) and in some cases, no recording functionality, while the Freesat boxes have limited backwards EPG content.
Contrast that to TalkTalk's YouView box and service, which features a unique backwards EPG which enables users to literally scroll back and catch up with TV over the last 7 days from the BBC, ITV, Channel 4 and Channel 5. Users can also pause, record and rewind more than 70 live TV channels using the 250GB storage of the YouView box.
On Demand Content, Premium Channels & Movie Rental
Freeview+ HD boxes can connect to the Internet for apps like the BBCiPlayer and ITV Player, however, in additon to the backwards EPG above, TalkTalk TV offers unlimited free access to over 1,000 TV shows, box sets and films on demand.
Premium channels like all the Sky Sports and Sky Movies channels are accessible on TalkTalk TV and can be added on a flexible one month contract basis.
Movie rentals in standard definition (SD) and high definition (HD) are also available on TalkTalk TV from LOVEFiLM BOX OFFICE and can be watched from as little as £2.50 a film.
Ordering TalkTalk TV
Existing TalkTalk customers adding TalkTalk TV online can receive their free YouView box within 3 working days of ordering, while new customers can expect to receive their YouView box within 3 working days of their TalkTalk Broadband service being activated.
A TV self-install option is also available, enabling customers to save £25 on the engineer installation fee.
Interested readers can find out more and order online at the talktalk.co.uk/tv website – where they can also qualify for a free £50 high street shopping voucher (offer ends 10th October)