EE Fibre Broadband 3 Months Half Price Offer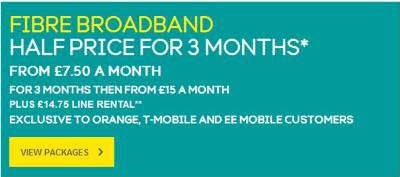 EE (EE.co.uk/fibre) has launched a 3 months half price offer on its fibre broadband packages, together with a FREE installation incentive worth £50.
EE fibre broadband, which provides super-fast download speeds up to 38Mbps, now costs from just £7.50 a month for the first 3 months, followed by £15 a month thereafter.
The £7.50 package includes a sizeable 40GB monthly download usage allowance, a Bright Box wireless router worth £95, plus inclusive evening & weekend phone calls to UK landlines.
Subcribers to this deal will also receive 2-4-1 cinema tickets every Wednesday and be able to choose from over 500 films from EE's Film Store.
The 3 months half price incentive also applies to EE's unlimited fibre optic broadband package which starts from just £12.50 a month for up to 76Mbps speeds.
In all instances EE phone line rental is required, costing £14.75 a month by direct debit, or an equivalent of £11 a month by paying 12 months line rental in advance.
Interested readers can find out more and order online at the EE.co.uk/fibre website.