Sky On Demand – TV & Films Ready To Watch When You Are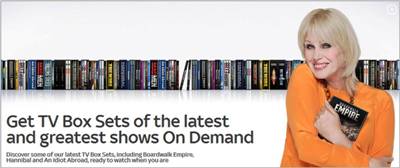 Sky TV customers can now enjoy Sky's new service, Sky On Demand (sky.com/ondemand), which delivers the UK's biggest Catch Up TV service, back-to-back episodes of Sky's latest and greatest TV Box Sets, plus hundreds of movies available to rent at the Sky Store or via Sky Movies On Demand.
What's more, it's easy to set up and use – simply connect a compatible Sky+HD box to your broadband router and use Sky's TV Guide to access and enjoy Sky On Demand.
Catch Up TV
Sky's Catch Up TV service is the biggest of its kind in the UK with more channels than any other provider. Available with all Sky TV packs at no extra cost, Sky customers can catch up on shows from the BBC iPlayer, ITV On Demand, 4oD, Demand5 and various Sky channels.
TV Box Sets
Sky's TV Box Sets offer instant on demand access to back-to-back episodes of some of Sky's latest and greatest TV shows including The Wire, Falling Skies, Boardwalk Empire and The Walking Dead – to name but a few.
Available to Sky Entertainment Extra+ customers (the Sky Entertainment Extra+ package costs from £5 extra a month for Sky TV customers), there's something to suit everyone in the family.
Hundreds Of Movies
Sky has hundreds of Movies On Demand that are exclusively available to Sky Movies customers at no extra cost. There's also many more titles available to rent from the Sky Store for standard Sky TV customers.
Watch Sky On Demand Anywhere With Sky Go
Sky On Demand can be watched anytime on your TV or anytime and anywhere with a compatible mobile, laptop or selected tablet device with Sky Go. A WiFi/3G/4G connection is required.
Interested readers can find out more about Sky On Demand and either join Sky TV or upgrade their package at the sky.com/ondemand website.