TalkTalk's Free Broadband Connection Offer To End
TalkTalk (talktalk.co.uk) has announced that it is to end its free broadband connection offer this Monday, the 27th July at midnight.
The popular offer provides new customers signing up to TalkTalk's broadband and phone Essentials package with a saving of £29.99.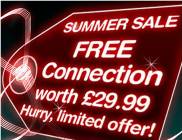 Recently rebranded as Britain's brighter phone and broadband company, TalkTalk is now the UK's largest broadband supplier following its acquisition of the Tiscali UK ISP business.
In the Essentials package, TalkTalk currently offer the UK's best value broadband and phone deal at just £6.49 a month.
This gets customers up to 8Mb broadband plus evening & weekend phone calls to UK landlines which includes calls to 0845 and 0870 numbers.
Free local anytime calls are also part of the Essentials package, which is good value when you consider that up to 70% of a households telephone calls are to local numbers.
With the free connection offer ending on Monday night, we advise interested readers to find out more at the talktalk.co.uk website.
They can also ring TalkTalk on 0800 049 7865 or take a look at our independent review of the TalkTalk Essentials package here.