Best Broadband Deals 2022
Vodafone Business Mobile Broadband – £12.77 p/m
You can now get Vodafone Business Mobile Broadband wth speeds up to 7.2Mb on your laptop for just £12.77 p/m.
There's a sizeable 3Gb download limit which means you'll be able to check your emails, open web pages and download documents when away from the office.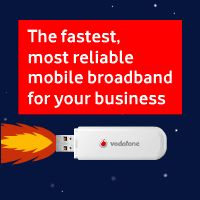 You'll also receive a free Vodafone USB modem stick that you'll need to plug into your Wi-Fi laptop to connect to the internet at 3G mobile broadband speeds.
Business mobile broadband is an ideal choice if you need fast access to the internet when out of the office or away on business travel. It's also not that expensive as you've probably got a Wi-Fi laptop already.
There's plenty of Vodafone plans to choose from depending on whether you need mobile broadband access in the UK and/or abroad.
Please use our Business Mobile Broadband service to compare the Vodafone business mobile broadband packages with those from T-Mobile.