Best Broadband Deals 2022
3 Pay As You Go Mobile Broadband – No Contract PAYG
If you're looking for mobile broadband without a contract, then 3 pay as you go mobile broadband is worth serious consideration.
With 3 PAYG mobile broadband there's no contract. You simply pay for the data you use, starting with £10 for 1Gb of data downloads.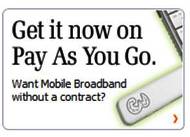 You can also add on 3Gb of downloads for £15 or 7Gb for £25, meaning you can top up what you want when you want as long as you use the data allowance within 30 days of your purchase.
With 3 pay as you go mobile broadband you'll get 3G mobile internet speeds on your laptop up to 2.8Mb and just have to pay a one off £49.99 for the 3 USB modem stick.
Please use our Pay As You Go Mobile Broadband comparison to compare this deal with the PAYG mobile broadband packages from Vodafone, T-Mobile and O2.