Virgin Broadband No Telephone Line Rental – £9 p/m
You can now get unlimited 2Mb Virgin Broadband with no telephone line rental required for just £9 a month for the duration of your 12 month contract.
This means you can save circa £132 a year (£11 a month) versus other broadband providers as there's no need to take or pay Virgin telephone line rental.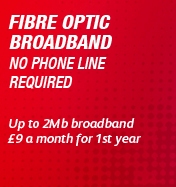 If you order this package online you'll also get £10 cash back that will be added as a credit to your first bill.
This is Virgin Media's best ever broadband only price, so make sure you order online today.
Please read our Virgin Broadband review for further info.