Best Broadband Deals 2022
Mobile Broadband With Free Laptop At Carphone
The Carphone Warehouse are now offering a range of mobile broadband with free laptop deals with prices starting from just £29 a month.
The company is reselling the mobile broadband packages offered by T-Mobile, Orange and 3 and bundling them with a free laptop worth over £350.
The free laptop is an Acer Aspire 5315 which has an 80Gb hard drive and 1Gb of RAM. The laptop has a DVD rewriter and comes pre-installed with Windows Vista Home Basic. It's also wireless enabled.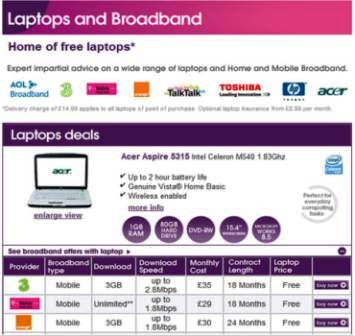 All the mobile broadband with free laptop deals come with a free USB modem stick (dongle) which you plug into the USB port of your free laptop for mobile broadband access.
The packages from T-Mobile, Orange and 3 offer mobile broadband speeds up to 2.8Mb and come with a 3Gb monthly download usage allowance. Contract periods vary from 18 to 24 months.
Please read our Mobile Broadband With Free Laptop guide for further information on these great new deals.