Talk Talk Broadband Call Plans Now Half Price
You can now get any of the four Talk Talk Broadband call plans for half price for the first 3 months so long as you order before the 23rd May.
This means packages like TalkTalk's Talk International evening & weekend call plan which offers unlimited evening and weekend calls to local, national and international landlines, plus free broadband, now starts from £2.95 a month for the first 3 months.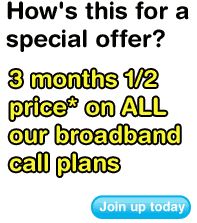 This special offer is available online or via phoning our special sales hotline number on 0800 049 7865.
Please read our Talk Talk Broadband review for further information.