Best Broadband Deals 2021
Free Sky Broadband For Sky TV Customers
If you're an existing Sky TV customer you can get free Sky Broadband if you live within a Sky Broadband network area.
The free package is called Sky Broadband Base and provides speeds up to 2Mb with a 2Gb monthly download usage allowance.
If a 2Mb download speed is not fast enough, you can pay £5 a month for Sky Broadband Mid which has speeds up to 8Mb together with a generous 40Gb download usage allowance.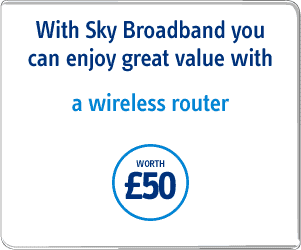 For £10 per month, there's also Sky Broadband Max which delivers super fast broadband speeds up to 16Mb and comes with an unlimited monthly download usage allowance.
These great value Sky Broadband packages are available exclusively for Sky TV customers only so if you're an existing Sky TV customer or considering joining Sky for the first time, order their broadband online now as the set up cost has been reduced to just £30.
You'll also receive a free wireless router worth £50, plus 12 months free McAfee PC security worth £49.99.
Take a look at our Sky Broadband review for more information or alternatively, enter your postcode into our broadband comparison service to find out whether your home can receive Sky Broadband.