BT Broadband Free Home Hub Offer (Black Or White Hub)
BT have extended their free Home Hub offer with the BT Broadband Option 1 package until the 31st March 2008.
In particular, the black version of the BT Home Hub (shown below) is proving to be really popular and is available exclusively online – So act now if you want to get your hands on one for free.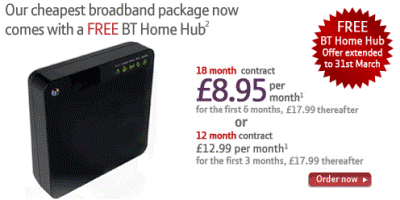 BT Total Broadband Option 1 offers speeds up to 8Mb, has a 5Gb monthly download usage allowance and costs from just £8.95 a month on an 18 month contract.
The BT Home Hub is BT's advanced wireless router that usually costs £30. The Hub connects wirelessly to your PC, laptop and your TV when used with the BT Vision digital TV service.
Find out more on the free BT Home Hub offer in our BT Broadband review here.