Best Broadband Deals 2021
Join Or Upgrade To TalkTalk Plus TV & Get 6 Months FREE Netflix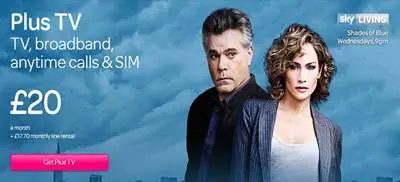 [PLEASE NOTE, THIS OFFER IS NO LONGER AVAILABLE] Britain's fastest growing TV platform, TalkTalk TV, is now offering 6 months FREE Netflix access worth £44.94 when new customers or existing TalkTalk customers join or upgrade to the TalKTalk Plus TV package at talktalk.co.uk/netflix.
Netflix is the popular movies and TV streaming service that enables users to watch, on demand, thousands of TV shows, blockbuster films, kids entertainment and box sets, including the likes of Breaking Bad, Orange Is The New Black and House of Cards.
Already A TalkTalk Broadband Customer? Upgrade To TalkTalk Plus TV
There's no better time to upgrade to TalkTalk Plus TV with the package currently discounted by £5 a month for the duration of the 18 month contract.
Upgrade at talktalk.co.uk/customeroffers and get all this for just £20 a month:
Unlimited Broadband
100% totally unlimited broadband with download speeds up to 17Mb
No monthly download usage caps to worry about
FREE advanced wireless router and Homesafe online protection
Anytime Calls
Unlimited anytime phone calls to UK landlines
New Talk2Go app that redirects landline minutes to use on your mobile phone
Digital TV
FREE YouView+ box worth £299
Pause and rewind over 70 Freeview channels, some of which are in HD
Record and store up to 200 hours of TV
Enjoy 6 top Sky TV channels including Sky 1, Sky Arts, Sky Sports HQ and Sky LIVING
Catch up on the TV you've missed using services like the BBC iPlayer & the ITV Player on your own TV
Watch popular box sets, movies and TV shows on demand with Netflix
Mobile SIM
FREE mobile SIM providing 100 call minutes, 250 texts and 200MB's of data each month
Not A TalkTalk Customer? Switch To The TalkTalk Plus TV Package
New customers can secure the TalkTalk Plus TV package for just £20 a month for 18 months by ordering online at the talktalk.co.uk/plustv website.
Note, TalkTalk Plus TV orders placed online by either new or existing customers by the 30th of March will qualify for the 6 months FREE Netflix offer, otherwise it's £5.99 a month.
How Do I Activate The TalkTalk 6 Months FREE Netflix Offer?
Follow the instructions below, depending upon whether you're new to Netflix or have an existing Netflix account.
New To Netflix?
As soon as your TalkTalk Plus TV service is live, TalkTalk will email a code to you. Then visit netflix.com/gift to redeem your code and get your 6 months FREE Netflix activated.
Now you have a Netflix account you'll be able to visit the 'On Demand players' area on your TalkTalk YouView box. Simply select Netflix and off you go.
Have An Existing Netflix Account?
Existing Netflix customers can also get the 6 months FREE offer. As per above, once your TalkTalk Plus TV service is live, TalkTalk will email you a code. Head to 'On Demand players' on your TalkTalk YouView box and select Netflix. Then, simply add the code to your existing Netflix account.
Readers can find out more about TalkTalk's 6 months FREE Netflix offer at the talktalk.co.uk/netflix website.