TalkTalk Customers Can Now Upgrade To TalkTalk TV In JUST 2 Clicks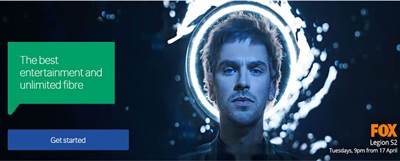 Here's some great news for existing TalkTalk customers…they can now upgrade to TalkTalk's TV package in just '2 clicks' through the 'My Account' section of the talktalk.co.uk website.
The new stream-lined TV sign up journey, which involves agreeing to just two questions for the upgrade, means thousands of TalkTalk customers can quickly start enjoying Britain's best value TV, Broadband, Line Rental and Calls package at just £28.95 a month – AND receive a FREE YouView box worth £149 in the process.
The two questions customers must agree to for the upgrade are 'that they will stay with TalkTalk for another 24 months' and that 'they have a working TV aerial'.
Once agreed, customers need to click the 'Send me my FREE Box' button which takes them to the last step where they complete their account details (if not auto-filled) and click 'Confirm'.
Once the '2 click' process is complete, delivery of the FREE YouView box is usually within 48 hours.
Customers upgrading to TalkTalk's popular TV package will be able to enjoy the following benefits:
– 30-day catch-Up TV: Scroll back 30 days and catch up using the BBCiPlayer, ITV Player, plus more (all on your TV)
– Pause, rewind & record up to 185 hours of live TV: Covering 80+ Freeview channels
– Enjoy 30+ entertainment channels including Sky 1 & Comedy Central
– FREE YouView box: Usual price is £149
– Totally unlimited broadband: With no usage caps or speed reductions, even at peak times
– Pay as you go phone calls to UK landlines: Plus FREE anytime calls between TalkTalk landlines
If required, customers can also add premium channels like Sky Sports and Sky Movies to their TalkTalk TV subscription, both of which are available on short, flexible 30-day contract periods.
Film lovers can also enjoy hundreds of on-demand movies and shows, including the latest blockbuster films in TalkTalk's TV Store – and pay from just £3.50 for the rental.
Existing TalkTalk customers can find out more and upgrade to TalkTalk's TV package in just 2 clicks at the talktalk.co.uk website.