Best Broadband Deals 2022
Virgin Media Launch 6 Months FREE Broadband Deal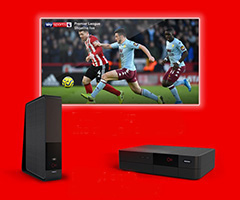 Virgin Media has announced the launch of a 6 months FREE broadband deal for new customers ordering online at VirginMedia.com. The deal applies across its range of broadband only packages, with its top tier ultrafast package offering average download speeds of 516Mbps.
The 6 months FREE broadband deal means new customers switching to Virgin Media can enjoy superfast fibre speeds of 108Mbps FREE for the first 6 months, followed by £44 a month thereafter.
Virgin Media broadband is an unlimited next generation fibre optic broadband service covering around 55% of UK homes. Their fastest widely available average speeds are seven times faster than Sky and BT's, while Intelligent WiFi is on hand to automatically sort out any WiFi issues.
No phone line rental is required with these Virgin broadband only packages while an 18 month contract applies.
Virgin Media's 6 months free broadband offer is a special online offer only that's available for a limited time, so readers are advised to visit the VirginMedia.com website & order online.
An independent review of this offer can also be found at our Virgin Broadband review page.