Best Broadband Deals 2022
Sky Bundles Variety Of Brilliant Sky TV For £10.75 A Month – Save Up To £276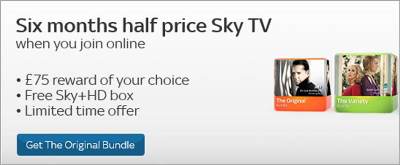 Sky is offering bundles of brilliant Sky TV from just £10.75 a month in their 6 months HALF PRICE sale at sky.com/variety.
New customers can save up to £276 and also qualify for a £75 credit on their bill when they join online at the sky.com/variety website by the 26th June.
Sky offer a variety of TV bundles to suit everyone, with its entry level 'Original Bundle' providing the best TV from the UK and the US for just £10.75 a month – AND its new Variety Bundle providing even more TV entertainment channels from just £13.50 a month.
The 'Original Bundle' includes 35 TV entertainment channels (including Sky Atlantic and Sky1), 8 free to air HD channels including BBC1 HD, BBC2 HD and Channel 4 HD, plus 240 free to air channels.
The FREE Sky+ HD box enables users to watch, pause and rewind live TV – AND also record Sky TV from anywhere with the Sky+ app for smartphones and tablets.
Every Sky TV bundle also gives users the option of adding Sky Broadband at home and on the move with Sky Wifi, inclusive weekend phone calls to UK landlines, plus Catch Up and On Demand TV.
There's also Sky Go which gives users the opportunity to watch their Sky TV subscription on the move on their laptop, mobile or selected tablet device using either a Wi-Fi or 3G/4G connection.
Sky phone line rental at £15.40 a month is required with any Sky TV bundle, while switching to Sky is straight forward even if you're a Virgin Media or TalkTalk customer, or don't have a compatible BT phone line.
Interested readers can find out further information and order online at the sky.com/variety website..