Virgin Media Collections Of Broadband, TV & Calls – 6 Months HALF PRICE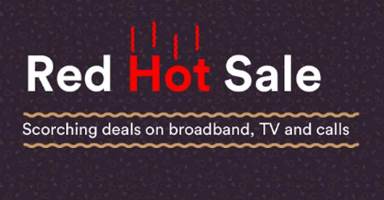 Virgin Media has revamped its broadband, TV & phone 'Collections' with a Red Hot Sale that offers 6 months HALF PRICE on their VIP and Premiere Collections, plus increased speeds up to 152Mbps.
An attractive 6 months discount is available on Virgin Media's four other 'Collections', while FREE installation worth £49.95 is standard for those new customers who order a Virgin Media Collection online at the virginmedia.com/collections website.
The revamped 'Collections' of Broadband, Phone & TV packages feature Virgin Media's highly acclaimed 500GB TiVo box, its next generation digital TV service and superfast fibre optic broadband speeds ranging from 50Mbps to up to 152Mbps. Unlimited weekend phone calls to UK landlines and Virgin Mobiles are also included.
The Virgin Media Collections have been designed to meet the increasing public demand for faster broadband and intelligent Internet connected TV services, whilst also providing great value for consumers, with prices starting from just £10 a month.
Commenting on the launch of the revamped 'Collections', Virgin Media's COO, Andrew Barron, said: "Virgin Media has been leading the evolution of digital entertainment in the UK, and with services such as TiVo and 152Mb Broadband, we've catalysed a massive growth in the consumption of digital entertainment".
Barron continued: "This is the first time we've combined these leading products in this way and these ground-breaking Collections mark a new chapter for digital services in the UK".
The launch of the revamped 'Collections' follows Virgin Media's completion of the roll out of its 152Mbps broadband service across its fibre optic cable network of 13 million UK homes.
The completion means half of all UK homes can now access some of the fastest broadband speeds in Europe, with prices starting from just £20 a month for 152Mbps speeds.
Virgin Media's revamped 'Collections' are available to both new and existing customers looking to update their digital services ready for an exciting spring full of entertainment. They are also being featured in Virgin Media's new TV adverts featuring the actor David Tennant and Virgin founder, Richard Branson.
Interested readers can find out more information and order a 'Collection' online at the virginmedia.com/collections website.