Best Broadband Deals 2021
New 8Mb Tiscali Broadband From £6.49 A Month
Tiscali have increased their broadband speeds so all their packages now offer download speeds of up to 8Mb.
So, for £6.49 a month for the first 3 months (£12.99 a month thereafter), customers can sign up for an 8Mb broadband package which includes free UK and International weekend phone calls.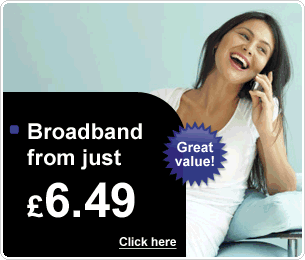 There's a 5Gb monthly download usage cap which is fine for most people, however if you're a heavy downloader or gamer you may want to consider one of their unlimited options.
You'll also get free set up and a free wireless router, whilst an 18 month contract period applies.
Further information on the different Tiscali Broadband packages and deals can be found in our Tiscali Broadband review.