TalkTalk's Bright Free Broadband Connection Returns
TalkTalk (talktalk.co.uk/bright) has brought back its free broadband connection offer as part of its rebrand to Britain's brighter phone and broadband company.
Positioned as TalkTalk's 'Summer Sale', the free broadband connection offer provides new customers joining TalkTalk's broadband and phone Essentials package with an instant saving of £29.99.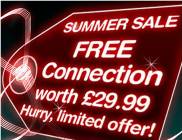 The Essentials package from TalkTalk includes broadband speeds up to 8Mb, a 40Gb download cap and free wireless router.
Off-peak phone calls plus anytime local phone calls are also included, together with off-peak calls to 0845 and 0870 numbers
Interested readers can find out more on TalkTalk's bright free broadband connection offer at talktalk.co.uk/bright.
There's also our independent review of TalkTalk Broadband and Phone here.