Talk Talk – Free Connection Offer This Weekend Only
Talk Talk are offering free connection on all their broadband plans when you order this weekend only.
The means you can save £29.99 in addition to the £30 you'll be saving thanks to Talk Talk's ongoing free wireless router offer.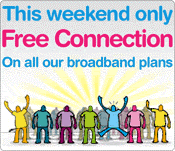 Remember, you can get free Talk Talk Broadband with one of their half price call plans with prices starting from £3.25 per month. Combine this with the free wireless router and now free connection offer, it makes sense to order Talk Talk Broadband this weekend.
Find out more in our Talk Talk Broadband review here or call Talk Talk now on 0800 049 7865 – lines are open all weekend!