Free BT Home Hub – BT Broadband Online Offer Only
You can now get a free BT Home Hub wireless router when you order BT Total Broadband Option 1. This is an exclusive online offer only so you must order BT Broadband online to receive this.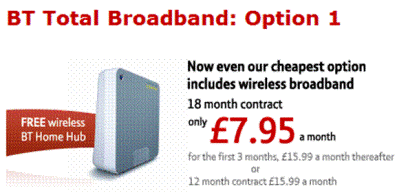 The free BT Home Hub is version 1.5 and comes in white. For an additional one off cost of £25 you can upgrade to the new black BT Home Hub 2.0 wireless router.
BT Home Hub 2.0 uses 'N' technology which provides up to twice the wireless range of any other UK broadband provider. This consistently gives you a better wireless broadband connection.
Please visit our BT Broadband review for more information on BT's great new exclusive online offer.