Superfast Wireless Tiscali Broadband Now £4.49
Tiscali have cut the price of its wireless broadband and phone calls package to just £4.49 a month.
For this you'll get up to 8Mb unlimited wireless Tiscali broadband plus free UK and International weekend phone calls.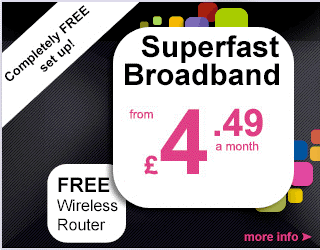 The £4.49 per month price point applies for the first 3 months, followed by £12.99 per month for the remainder of the 12 month contract.
Set up is free whilst you'll also receive a free wireless router. You can also keep your existing telephone number.
This is a special online offer that's available until the 31st May 2008 so please use our Tiscali Broadband review for more information.