Tiscali Superfast Broadband £6.49 A Month
Superfast broadband from Tiscali now costs from just £6.49 a month and comes complete with a free wireless router and free UK and International weekend calls.
You'll get up to 8Mb unlimited broadband depending on your homes distance from the local telephone exchange, plus free email anti-spam and anti-virus software.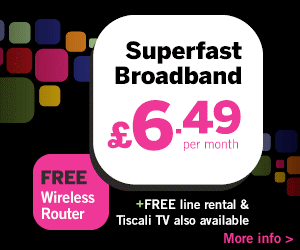 There's no set up costs to worry about, plus 24/7 technical support if you need it.
This special offer has a 12 month contract and costs £6.49 a month for the first 3 months, followed by £12.99 per month thereafter.
You'll have to hurry though as this offer (already extended) ends on the 21st April 2008, so read our Tiscali Broadband review for more information.