Best Broadband Deals 2022
Virgin Broadband, Virgin Phone, Virgin TV & Mobile
If you love saving money, you can save even more by ordering Virgin Broadband, Virgin Phone, Virgin TV and Virgin Mobile, or any combination of these from Virgin Media.
In fact, according to a recent survey by YouGov Plc, you could save on average up to £160 a year by switching your digital TV, broadband and home phone packages from separate providers to a bundle deal like the ones offered by Virgin Media.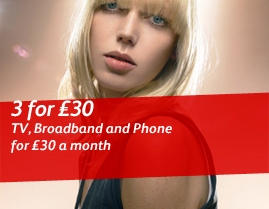 Virgin Broadband, Phone & TV – 3 For £30 p/m
With a Virgin Media 3 for £30 bundle, you can get unlimited 2Mb broadband (called Broadband Size M), unlimited weekend local and national phone calls (called Talk / Phone Size M), plus over 85 digital TV channels (called TV Size L) which saves you a packet. The Virgin Media Talk M phone calls package also includes your monthly telephone line rental cost as well, making it a great value bundle.
What's more, you can add Virgin Mobile (300 texts & 300 minutes a month) to the above and get Virgin Broadband, phone, TV and mobile for £40 a month (4 for £40). You can keep the mobile phone you love and the number!
Join Online & Save Up To £30
For every cable service you sign up to online, Virgin Media will give you a £10 discount. Choose all three – that's Virgin Digital TV, Virgin Broadband and Virgin Phone and you'll get £30 discount.
Find out more about the Virgin Broadband, phone, TV and mobile deals in our Virgin Broadband review here.