Best Broadband Deals 2021
The BT Broadband 73% Price Drop – Switch To BT Today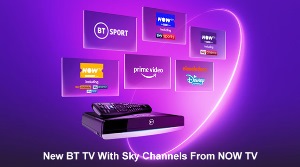 New customers switching to BT can get a great deal in the BT Broadband 73% Price Drop at the bt.com/dealbroadband website.
Super reliable BT Broadband & BT phone line rental for £24.99 a month is available with a FREE £65 BT Reward Card, while BT TV with BT Sport can be added to the package for an extra £3.50 a month.
BT Broadband & BT Phone Line Rental – £24.99 A Month

Now with up to 73% off, this package delivers a super reliable broadband connection with the BT Home Hub 4 wireless router coupled with up to 17Mbps copper download speeds.
Weekend calls to UK landlines are included, together with free access to 5 million BT Wi-Fi hotspots across the UK.
Add BT TV

New customers can add BT TV's Starter Pack to their broadband and calls package for just an extra £3.50 a month and enjoy:
FREE BT TV YouView box (worth £149) for pausing and rewinding live TV
7 day catch-up TV plus access to over 70 Freeview TV and radio channels
The latest blockbuster films either to rent or buy from the BT Store
Add exciting bolt-on packs like Netflix for an extra £5.99 a month
The BT Sport Pack offering exclusive access to all 351 live UEFA Champions League and Europa League matches, plus 42 Premier League matches. Customers can enjoy all the action wherever they are with the free BT Sport app (Wi-Fi/3G/4G charges may apply).
Legal Stuff

Standard BT phone line rental is required with BT Broadband and is now included in the overall package price. A one-off £9.99 delivery charge applies for the BT Home Hub wireless router, while a one-off £50 BT TV activation fee is required.
What Next?

Interested readers can find out further information on the BT Broadband 73% price drop at the bt.com/dealbroadband website.