Half Price Virgin Broadband Hate To Wait Offer
Virgin Broadband's super fast 'Hate To Wait' fibre optic cable broadband packages are now half price when taken with a Virgin phone line.
Pay from just £4.50 per month for unlimited 2Mb fibre optic broadband, £8 per month (for the first 3 months) for unlimited 4Mb broadband and from just £10 per month (for the first 3 months) for super fast unlimited 20Mb fibre optic broadband.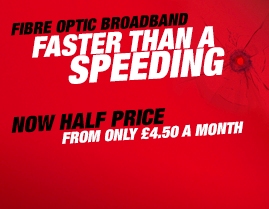 With Virgin Media fibre optic broadband you won't hate to wait for downloads. You'll be able to download a song in 2 seconds, a whole album in just 30 seconds, or a TV show in 3 minutes with their 20Mb broadband package. There's also incredible speeds of up to 50Mb coming soon.
Don't forget! If you order a Virgin Broadband 'hate to wait' half price package online you'll also receive a one off £20 credit that will be added to your first bill.
You can read more about Virgin's great new half price 'hate to wait' (hatetowait.co.uk) broadband offer in our Virgin Broadband review here.