Best Broadband Deals 2022
Free BT Home Hub Offer From BT Broadband
Here's some exclusive broadband news from BT.
Anyone signing up online to the BT Total Broadband Option 1 package will now receive the BT Home Hub FREE.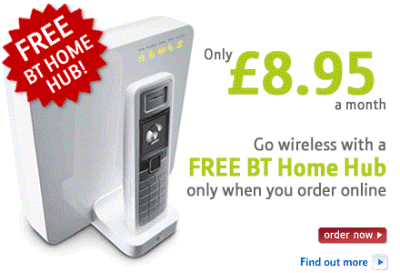 The BT Home Hub is a next generation wireless router which is easy to connect to multiple devices such as PCs, laptops and gaming consoles without the need for wires. The BT Home Hub also allows you to get BT Vision, BT's digital TV service.
This online offer last until the 29th February 2008, after which you'll have to pay a one off £30 for the BT Hub when you order BT Broadband Option 1.
Further information can be found in our BT Broadband review here.