Best Broadband Deals 2022
Sky Cinema £10 A Month Offer For Existing Customers This Christmas 2017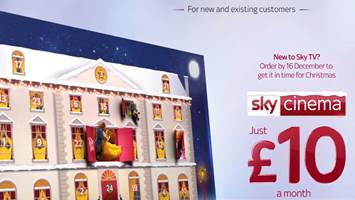 Existing Sky TV customers ordering Sky Cinema for this Christmas 2017 are in for a real treat with a £10 a month offer that is now live at the sky.com/christmas website until the 28th of December 2017.
And that's not all! – there's plenty of great new films making their debut on Sky Cinema this Christmas 2017 including:
– Disney Olaf's Frozen Adventure
– The Boss Baby
– Disney Beauty and the Beast
Sky Cinema has 11 dedicated film channels (plus the Sky Disney channel) and is the UK's most popular movie subscription service with literally thousands of movies to choose from, plus a new premiere every day!
Sky Cinema customers can enjoy the year's biggest blockbuster films 12 months before other online subscription services like Netflix and Amazon Prime – And watch movies at a time that suits them using additional features like Sky Go and Sky on Demand – which come with Sky TV (and Sky Cinema) at no extra cost.
All 11 Sky Cinema channels are available in HD at no extra cost, while Sky on Demand can be activated by connecting the Sky+HD box or SkyQ box to any broadband router.
With the Sky Cinema Christmas offer, existing Sky TV customers can upgrade to Sky Cinema for just an additional £10 a month at the sky.com/existingcustomer website. Upgrades can usually be activated by Sky in less than 3 hours.
New customers can join Sky TV with Sky Cinema and pay just £30 a month for the duration of the 18 month contract.
This deal, available at sky.com/shop includes over 35 Sky TV channels, 7 free-to-air HD channels, 240 free-to-air SD channels, all 11 Sky Cinema channels, plus a FREE SkyQ 1TB box worth £249.
Make your Christmas magical this year with Sky Cinema. Find out more and and order online at the sky.com/christmas website.