Tiscali Broadband – Contracts Now 12 Months
Some good news for prospective Tiscali customers!
All Tiscali broadband contracts (together with Tiscali Talk and Tiscali TV) are now just 12 months instead of the 18 months as previously offered.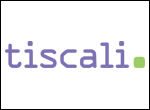 Tiscali have also updated their broadband, phone and TV bundles to give customers even better value.
You can now get Tiscali unlimited 8Mb broadband, telephone line rental, weekend UK and International phone calls, plus 60 digital TV & radio channels for just £19.99 a month. You'll also receive a free wireless router for wireless broadband and a free set top box.
Further information can be found in our Tiscali Broadband review.