Xmas Sky Sports Deals For Existing Sky Customers – 6 Months HALF PRICE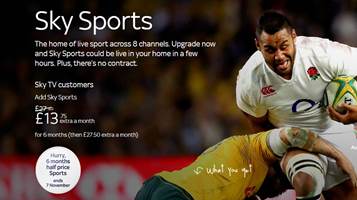 Sky has launched a special Christmas offer featuring 6 months HALF PRICE Sky Sports for existing customers who upgrade online at sky.com/sport by midnight on the 4th of January.
The Sky Sports pack has eight dedicated channels of sport bringing Sky Sports customers coverage of the greatest sporting events across the UK, Europe and the world. Upgrade now and get Sky Sports live in your home in just a few hours time and enjoy 40 live Premiership matches this Christmas.
This is Sky's biggest season ever with 126 live Premier League games (84 more than BT Sport), plus 127 live Sky Bet English Football League matches.
Customers can watch the biggest games with Sky's 26 Top Picks this season, while there's also new Friday night football with a new team of experts.
Upgrade to the Sky Sports pack for just £13.75 a month for the first 6 months (£27.50p/m thereafter) and in addition to all the live football coverage, enjoy live Formula 1 action, domestic and international cricket, plus ATP Word Tour tennis and lots more.
All Sky Sports channels can be watched on the move with Sky Go on devices like iPads and iPhones using either Wi-Fi or a 3G/4G connection, or on demand with Sky Go Extra.
Interested readers can upgrade to the Sky Sports pack online at the sky.com/sport website. Start enjoying all the sports action in just a few hours time.