BT Infinity Deals Include Free £50 Sainsbury's Voucher
All BT Infinity deals ordered online at www.BT.com/infinity now qualify for a free £50 Sainsbury's voucher.
The new incentive means non-BT Broadband customers ordering a BT Infinity deal online can get the £50 voucher, as can existing copper BT Broadband customers re-contracting to a BT Infinity package online.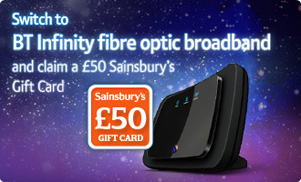 BT Infinity is BT's super-fast fibre optic broadband network which now covers around 11 million homes in the UK, with rollout expected to reach two-thirds of UK homes by 2014.
Prices start from just £9 a month for the BT Infinity 1 package which provides broadband download speeds up to 38Mbps coupled with upload speeds up to 9.5Mbps.
A 40GB monthly download usage allowance applies while weekend phone calls to UK landlines are included.
From £20 a month, the BT Infinity 2 package delivers broadband speeds up to 76Mbps (eight times faster than the UK average) together with the UK's fastest upload speeds up to 19Mbps.
BT Infinity 2 offers an unlimited monthly download usage allowance together with unlimited evening and weekend phone calls to UK landlines.
BT telephone line rental from £10.75 a month is required with any BT Infinity deal while a free BT Infinity home hub is included for wireless broadband access in and around the home.
Readers interested in switching to a BT Infinity deal can find out more and order online at the www.BT.com/infinity website.