Best Broadband Deals 2022
3 Mobile Broadband For Laptops From £10pm
Here's some exciting news from the mobile operator, 3. Monthly prices for 3 Mobile Broadband for laptops now start from just £10 a month for download speeds up to 2.8Mb.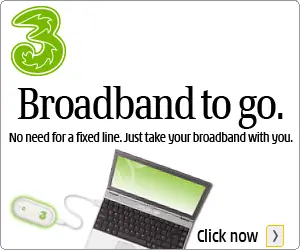 You'll get a 1Gb monthly download usage allowance, though if that's not enough for you, you can easily opt for either the 3Gb or 10Gb package which costs an extra £5 or £10 a month respectively.
Also, it's worth remembering that if you order 3 mobile broadband online, you'll receive the USB modem you need for your laptop for FREE.
Read our latest review on 3 Mobile Broadband here.