Best Broadband Deals 2020
Blockbuster BT Spring Deals Offer Savings Of £168 On Fibre Broadband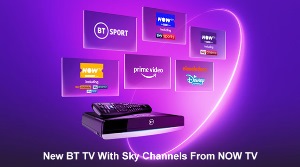 BT has unveiled its Blockbuster BT Spring Deals which offer new customers ordering online at BT.com/spring with savings of up to £168 on BT Fibre Broadband, plus great value BT TV packages with Sky channels from NOW TV.
FREE fibre activation is available with the BT Fibre 1 & 2 packages until the 4th of June 2020, while there's also a FREE BT Reward Card pre-loaded with up to £100 to go shopping with.
The Blockbuster BT Fibre Essential Spring Deal
Now at just £26.99 a month for the 24 month contract period, the BT Fibre Essential package includes average download speeds of 36Mbps coupled with unlimited downloads, 1000GB's of online storage and BT phone line rental.
The deal also features a FREE BT Home Hub 5 wireless router, FREE BT Parental Controls and unlimited Wi-Fi access at BT's 5 million hotspots across the country.
Unlimited phone calls to UK landlines and 0845/0870 numbers either throughout the evening and weekend, or anytime, can be added to the package during sign up.
The Blockbuster BT Fibre 1 Spring Deal
Now just £28.99 per month for the duration of the 24 month contract (saving £168), BT Fibre 1 offers fibre optic download speeds averaging 50Mbps, unlimited downloads, a FREE Smart Hub wireless router, plus BT Cloud storage and BT Parental Controls. BT phone line rental is also included.
New BT TV Packages With Sky Channels From NOW TV
New customers can also add BT's new TV Entertainment package to any of BT's Blockbuster Spring Deals for £5 a month and receive a BT 4K recordable set top box worth £149 in the process. There's also access to 20 premium TV channels from NOW TV, including Sky Atlantic, Sky One and FOX, plus all the usual Freeview favourites. Other channels packs including BT Sport, Sky Sports and Sky Cinema can be added with prices starting from £15 a month.
New customers needing a new BT phone line installed or re-connected can also take advantage of BT's FREE connection offer (the usual cost is £127.99).
Interested readers can find out more and order online at the bt.com/spring website.