Best Broadband Deals 2021
3 Broadband & HP 2133 Laptop Bundle Now £25p/m
Mobile operator 3 has today announced that their mobile broadband and HP 2133 laptop bundle is now available for £25 per month.
This is a £10 monthly discount on the previous £35 per month and represents a £240 saving over the 24 month contract term.
For £25 a month, customers can get 3 Mobile Broadband with speeds up to 2.8Mb, a 5Gb monthly data usage allowance, a free USB modem stick, plus the HP 2133 mini laptop.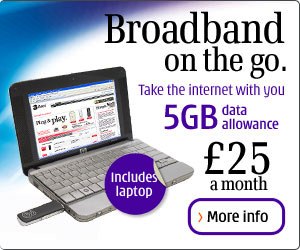 The HP 2133 mini notebook laptop is thin & lightweight making it ideal for broadband access on the go. It comes with a 120Gb hard drive, 1Gb of RAM and comes pre-installed with Windows Vista Home Basic – perfect for both personal and business use.
You can compare this broadband and laptop bundle with others from the likes of Vodafone and Orange in our Broadband Free Laptop review.