BT.com/getmore Offers £25 Sainsburys Gift Voucher
BT (www.BT.com/getmore) is offering new customers a free £25 Sainsburys gift voucher when they sign up online to any BT package containing BT Broadband.
New customers acting quickly can also take advantage of BT's Totally Unlimited Broadband, plus Calls offer, which is currently free for the first 6 months, before reverting to £16 a month thereafter.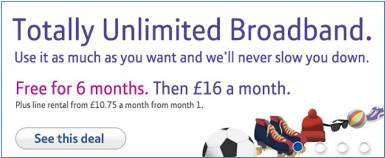 The BT Broadband and Weekend calls package provides BT Broadband speeds up to 16Mbps together with unlimited weekend phone calls to UK landlines and 0845/0870 numbers.
A truly unlimited download usage allowance applies to the broadband, which means users can download as much as they want, plus their speeds won't be slowed down at peak times of the day.
The latest BT Home Hub wireless router, worth £89.99, is also included for free together with unlimited Wi-Fi minutes at over 4 million Wi-Fi hotpsots across the UK.
New customers switching to BT for the 6 months free unlimited broadband offer will also not need to pay the £127.99 connection fee for a new BT phone line or re-connection.
BT will send customers their free £25 Sainsbury's gift voucher 45 days after their new BT services have been activated – provided customers follow all the instructions on the www.BT.com website.
Readers can find out further information and sign up online for a BT package at the www.BT.com/getmore website.