Virgin Media Student Broadband Deals Launched
Virgin Media (virginmedia.com/student) has launched a range of new student broadband deals that are available on a shorter 9 month contract.
Ideal for students who do not require broadband during the summer months, Virgin Media's wireless broadband deals are perfect for sharing and do not require a telephone line, which means there's no monthly phone line rental to pay.
Up to 30Mb broadband speeds are available for £22.50 a month over 9 months, while up to 60Mb speeds cost £27.50 a month.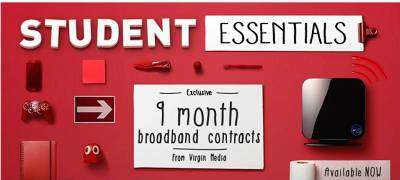 Students can also opt for up to 30Mb broadband speeds plus unlimited weekend phone calls to UK landlines and pay just £29.49 a month. Virgin telephone line rental is required for this option and is included in the £29.49 a month price.
A broadband activation fee of £20 usually applies, however this is currently being waived so long as students order their chosen package online at the virginmedia.com/student website.
Virgin Media's super-fast fibre optic broadband network covers 55% of UK households and offers broadband speeds at least twice as fast as its rivals, according to a a recent OFCOM broadband speed test study.
The Virgin Media Broadband packages also offer unlimited downloads which means housemates can use the Internet as much as they want and all at the same time – without being charged extra for exceeding any data usage allowances.
Interested readers and students can find out more at the virginmedia.com/student website.