Best Broadband Deals 2022
BT.com/summerdeals Offers HALF PRICE Broadband & Calls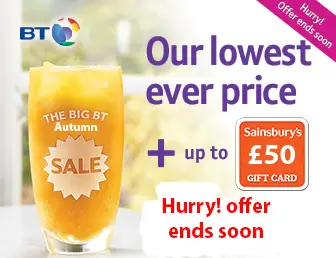 BT has launched its exclusive BT summer deals offering HALF PRICE broadband and phone calls for 6 months to new customers signing up online at the BT.com/summerdeals website.
The headline summer deal is BT's £5 a month Broadband and Weekend calls package which provides BT Total Broadband speeds up to 17Mbps plus BT's Weekend Calling Plan.
BT Total Broadband comes with a 10GB monthly usage allowance, FREE BT Home Hub wireless router worth £89.99, FREE basic security, unlimited Wi-Fi minutes and a FREE 24/7 broadband helpline.
The BT Weekend Call Plan also includes unlimited calls to 0845 and 0870 numbers, plus free customer support at anytime.
Usually priced at £10 a month, BT's new summer deal provides savings of at least £30, while a £25 Sainsbury's gift card voucher is also available.
For those new customers wanting to sign up for this deal, but who do not have a BT landline, BT is offering to install a new BT line or re-connect an existing one for FREE. This represents an additional saving of £127.99.
In a separate summer deal, BT is offering up to 38Mbps BT Infinity fibre optic broadband speeds, plus unlimited weekend phone calls to UK landlines for just £7.50 a month. A £50 Sainsbury's gift card is currently available with this deal.
Interested readers can find out further information on BT's Summer Deals and order online at the bt.com/summerdeals website.