Articles on the topic :
AOL Broadband
Up to 8Mb AOL Wireless Broadband is now available from £4.99 per month for the first 3 months, followed by £14.99 a month thereafter.
You'll get a free wireless router worth £50, free connection and your first month free – but only if you order AOL Broadband online.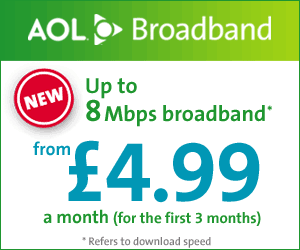 AOL Wireless Broadband is available on an 18 month contract and comes with a sizeable 10Gb monthly download usage allowance.
There's also the option of taking free evening / weekend UK and international phone calls with AOL Talk.
Please read our AOL Broadband review for further information.