Sky Supercharge Awesome Foursome Deal With £100 M&S Voucher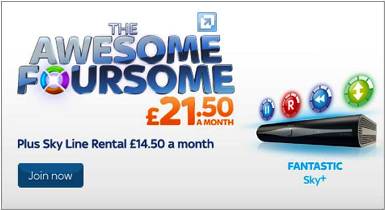 Sky (sky.com/supercharge) has supercharged its Awesome Foursome deal with a free £100 M&S voucher for new customers who order online by the 24th June.
The new deal means customers switching to Sky can get epic Sky TV, the fantastic Sky+ box, the amazing Sky Go and brilliant Sky Broadband for just £21.50 per month – and receive the free £100 M&S voucher in the process.
What's more, the Sky Entertainment Extra+ pack with 45 HD channels, Sky 3D TV, box sets on demand and the UK's largest Catch Up TV service is available for just an extra £5 per month.
Customers can also upgrade the broadband element of the Awesome Foursome deal to Sky Broadband Unlimited (which has no download usage caps) and pay half price for 12 months, at just £3.75 a month. Sky Fibre Broadband with speeds up to 38Mbps is also available at half price for 6 months (just £10 a month).
Readers can find out more on Sky's supercharged Awesome Foursome deal and order online at the sky.com/supercharge website.